The Dalles, Oregon
Tesla Supercharger
Updated As of February 28, 2017
Cousins' Country Inn, 2114 West 6th St, The Dalles, OR 97058
Roadside Assistance: 877-798-3752
Charging: 5 Superchargers, available 24/7
Restrooms: Cousins' Country Inn, Cousins' Restaurant
Wifi: Cousins' Restaurant
Restaurants: Cousins' Country Inn, Cousins' Restaurant
Public Charging: Pay J-1772 station, Fred Meyer The Dalles, 1215 W 6th St, The Dalles, OR, 97058
Amenities: Cousins' Country Inn, Cousins' Country Restaurant, The Dalles Chevron convenience store
Photos: (Click on each photo below for a larger image.)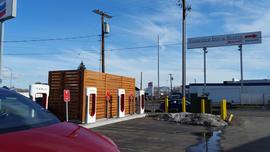 Above photos courtesy of Steve Grande.



Above photo courtesy of Andy McConnell.
The below is scenery along I-84 while driving east from Portland to The Dalles.
The below photos are what you will see while heading west from The Dales Tesla Supercharger if you exit I-84 in Dodson, Oregon and travel along the Historic Columbia River Highway towards Troutdale, Oregon. The below photos were taken while traveling east to west.

Left: Driving West on I-80. Right: Horsetail Falls

Click Here For A Video Clip Of Horsetail Falls



Multnomah Falls & Multnomah Falls Lodge

Click Here For A Video Clip Of Multnomah Falls



Bridal Veil Falls State Scenic Viewpoint